More commonly known as
Akatsuki BlitzkampfWhat is it? From Wikipedia:
Akatsuki Blitzkampf (アカツキ電光戦記 Akatsuki Denkō Senki?) is a Japanese dōjin 2D fighting game, developed by the dōjin circle SUBTLE STYLE for the PC.[1] Released on April 30, 2007, the game is a sequel to Akatsuki Shisei Ichigō.[2] The title got a lot of attention in Japan and elsewhere for its high-resolution sprites and older style gameplay.
Akatsuki Blitzkampf (or Denkō Senki in Japanese) is set in a fictional future involving several characters that roughly resemble the German soldiers of the World War II era, among others. In-game visuals supplement this sort of specific militaristic theme and environment, portrayed by the flat and somewhat cubist character portraits and story sequence images. Blitzkampf is also a follow-up to a previous SUBTLE STYLE release from 2003 called Akatsuki Shisei Ichigō, involving many of the characters from the previous game.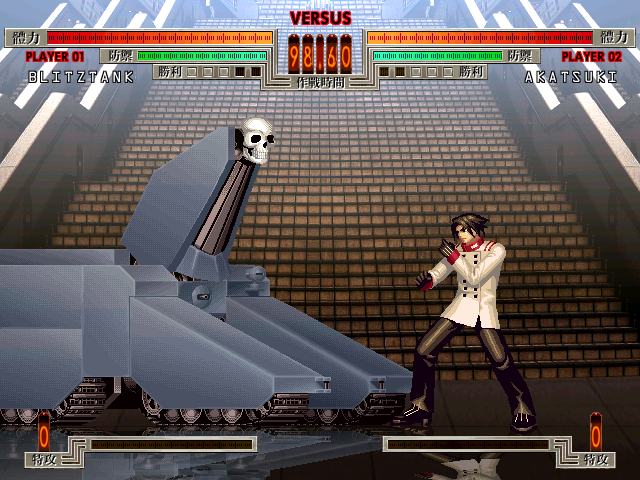 This game has a nun with dual handguns, a guy who never takes his hands out of his pockets, a tank, and a ninja dictator as playable characters,
and
online play (Although the you'll need to download a netplay hack, as the built in online is borked and horrible). For shame if you haven't played it.
If you want me to throw the game up on Megaupload or something I'd be glad to.