Or
That game everyone thought was Touhou 13
Not crazy about the enemy graphics
They seem really static.
But otherwise, it's sorta good
http://nekofla.web.fc2.com/game/th_kaikeidou/th_kaikeidou02.html
The requirements are super strict, if you don't have Windows Service Pack 3 it may not play.
As always, Applocale is reccomended
If someone can tell me the basic story, I'll try to figure everything out by myself, I'm up to Stage 4.
MAKE SURE TO DOWNLOAD
EVERYTHING INTO A FOLDER.
Picture of first boss
Name; Susanomori Konoha
Species; Tanuki
Ability; Shapeshifting (?)
Picture of 2nd boss
Name; Uzushima Naruko
Species; Youkai
Ability; Summoning of vortexes
Picture of Stage 3 Midboss
Name; Amazu Miyo
Species; Funa-yuurei
Ability; To drown stuff with ladel
Picture of 3rd Boss
Name; Minazuki Tubame
Species; Sea Witch?
Ability; Forecasting sea conditions (And walk on water)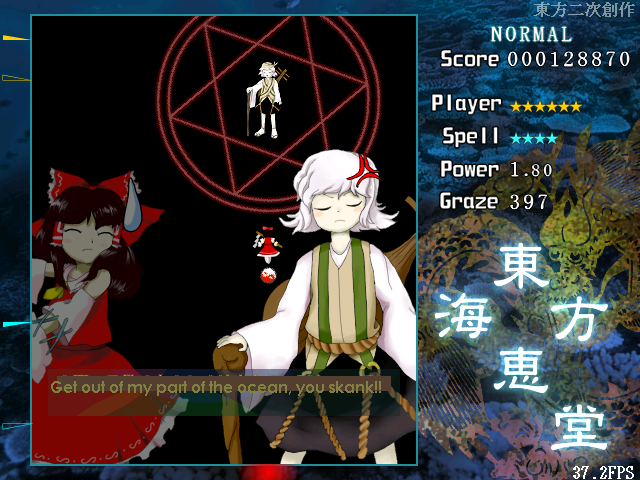 Picture of 4th Boss
Name; Sindou Kasumi
Species; ???
Ability; To show visions

Picture of Stage 5 boss
Name; Yaobi Megumi
Species; Mermaid
Ability; Manipulation of water flow (or just flow...)
Last edited by FlyingFantastica on Sat Feb 12, 2011 1:57 pm; edited 6 times in total